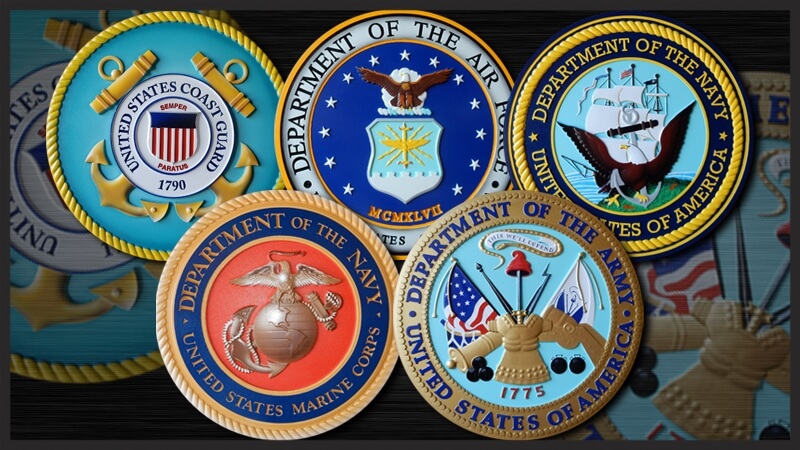 The United States Military is the strongest in the world. They protect the country foreign and domestically. What makes it even better is how there are several branches with a unique specialty from Army, to Marines, to Navy and more! Vision Strike Coins cannot thank the service men and women for their sacrifices, therefore, we have created special military challenge coins available for all branches. Here is the list for the best challenge coins of 2017.
Operation Desert Storm involved the deployment of over 60,000 troops to the Middle East. This military operation is one of the most historic in U.S. History, which is why we have created the Desert Storm Veteran Coin. This coin serves as a memorial to all of the troops and families affected by this tough era.
2. Veteran It Cannot Be Inherited Coin
When it comes to the U.S. Military, veteran status is honored to the highest degree. This honor is only obtained through service. The U.S. Veteran It Cannot Be Inherited Coin illustrates the importance of service while reminding all servicemen and women that their service can and will never be taken from them.
3. Marines Your Best Friend Your Worst Enemy Coin
The U.S. Marine is the war fighter America turns to when its defense is threatened. If you cause a threat to America, you will face the wrath of the Marines. The Marines Your Best Friend Worst Enemy Coin serves as a reminder that we can be your friend, but make sure to stay on our good side. Once you mess that up, you have the hardest enemy for a lifetime.
4. Vietnam Veteran U.S. Military Coin
The Vietnam War is the most historic war in modern American history. So historic that it still affects many Americans to this day. Vietnam Vets are proud of their service just as much as civilians. Our Vietnam Veteran U.S. Military Coin is another token of appreciation to all who served in Vietnam and is truly one of the best challenge coins available.
5. EOD Explosive Ordnance Disposal Nerves of Steel Coin
Being EOD Tech is one of the most dangerous jobs in the military. While being trained in the destruction of enemy ordnance, they serve with all guts and glory. The EOD Nerves of Steel Coin is a representation of the many dangers the job entails, but also honors the nerves of steel it requires to not fold under pressure.
6. ISIS Hunting Club Member Coin
The new Islamic military state has been gathering headlines for the past few years. The U.S. has done a great job at handling their actions with various airstrikes. However, the Islamic state has made sure to be the new threat worldwide no matter how many setbacks they endure. With that said, VSC made sure we can get a club together. The ISIS Hunting Club Member Coin is for veterans and civilians who partake in the endeavor to hunt down anyone who causes harm not just to our country, but to our people as well.
7. Sniper One Shot One Kill Military Coin
One shot to get one kill. Our snipers are the most fearless individuals because of what they endure just to obtain the target. The Sniper One Shot One Kill Coin serves as a tribute to all snipers worldwide that as you look in your scope to identify the target, just one caliber bullet is enough to take them out. Headshots for our enemies.
8. Navy Chiefs Shaping The Future Coin
The U.S. Navy Chief is a rank that changed the Navy landscape forever. From operations to commands, the chiefs instilled a new found discipline in the branch. The U.S. Navy Chiefs Shaping the Future Coin honors all of the high chiefs and their Goatlockers for decades of their hard work and sacrifice.
9. Popeye vs Mao Tse Bluto Anti Commie Flip Coin
We all love a good battle and of course we all love Popeye. Put the two together and you have a great flip coin on your hands. The Popeye vs Mao Tse Bluto Anti Commie Flip Coin is ideal for anyone who loves Popeye collectibles. You will not be disappointed.
There is still plenty of time in 2017 so be on the lookout for more military challenge coins coming to a computer near you.
Until next time.